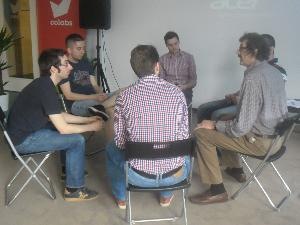 In addition to our language courses we also offer a number of business courses. We have Advanced, Upper Intermediate Business and Intermediate business English courses as well as one off specialised courses.

Our Business Wise Course can be tailored to meet an individual company's needs.

The specialised courses, with our experienced international team of business teachers, are held either at our Fehérvári út location, or in company groups at their location.

Team Building courses are in English and Hungarian; the other Business Courses are in English.

Currently available courses include:

Business Wise Course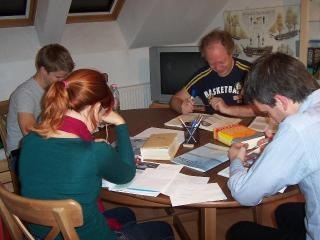 The LBS Business Wise Course provides students with real practical working business skills in the English language. The course follows real life so participants can develop their English language and business skills in a task orientated environment.

The course tutors are all qualified and experienced with a business background.

The tutors will take students through twenty-four sessions developing all forms of communication. The course covers letter and email writing, marketing material and making presentations. The course also examines new businesses, finance, negotiating skills and working across cultures. The course is designed for B2 entry level.

For companies the course can be adapted to concentrate on certain themes of their choosing. The result is a long-lasting investment.

Suitable for students of Intermediate English and above:

Form of
teaching

Fee for each course


Group
50,0000 HUF/person for 24 lessons
Reservations
--------------
1 to 1
2*90,000 HUF/person or 1*153,000 HUF/person for 24 lessons

Business Intermediate

There is a business variation of our standard B1/B2 course available for cooperate and 1 to 1 customers. This course is designed to improve general English (general English vocabulary, grammar) but includes topics designed to improve business vocabulary.


Team Building

Our Team Building Bootcamps will enhance your current teamwork skills and enable you to acquire new ones. Teamwork skills are the key to personal and professional success. At the end of the bootcamp you will be able to inspire yourself and others to:

Build trust, responsibility and loyalty
Identify and use individual talents to attain team goals
Shape solutions to problems by harnessing diversity
Develop, test and transform ideas and viewpoints
Team building bootcamps are group courses and we offer one day and two day versions. The price will vary according to the number of students.

Negotiation Skills

The 5 to 8 hour Negotiation Bootcamp is designed to upgrade your negotiating skills and enable you to conduct a negotiation in a professional manner, thereby saving you time and money. When you walk out of the Bootcamp you will have a roadmap to guide you through your future negotiations and an Action Plan of personal goals for becoming a better negotiator. At the end of this course you will be able to:

plan and conduct a negotiation, solo or as part of a team
employ appropriate strategies and tactics
break deadlock and resolve conflicts
Negotiation Bootcamps are group courses and the price will vary according to the number of students.

Presentation Techniques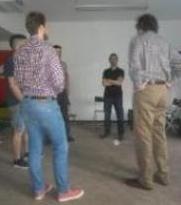 Our Presentation Techniques course will give you the confidence to make that all important speech or make that big sale. Whether you're a complete beginner or looking to improve existing skills, we will bring out the best in you.


We offer both 1 to 1 and group presentation courses in which over 3 hours (which can choose to be in one or two sessions) you will see your skills develop and grow. So that you:

will present your message with confidence
will entertain and engage your audience
will be effective
Form of
teaching

Fee for each course
Groups
--------
1 to 1
8,000 HUF/person
------------------
20,000 HUF
Reservations
English Conversation Enhancement

Our English conversation enhancement course aims to bring development and success through a friendly atmosphere. The participants will gain the confidence to express their thoughts, no matter what the situation is.

At the end of the course participants will have:

learnt to express themselves and overcome their inner fears when talking in English.
built up their English vocabulary in a friendly and congenial atmosphere.
gained more confidence in English language communications.
gained the motivation to change.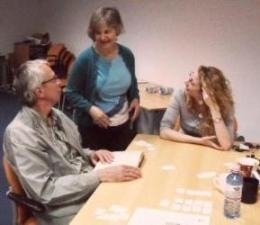 The course is aimed at those who have reached the Common European Framework Languages skill level B1 or above. The one day and two intensive programmes have continuous English conversation with native English-speaking teachers in a stress-free and friendly environment. We maximize the time we have during this programme and ensure everyone has plenty of opportunity to participate in conversation.

This is a group course and the price for companies will vary according to the number of students.

CV and Job Interview Development

Whether you are new to the job market or looking for personal development then our CV and Job Interview Development sessions are what you need. With experienced professional interviewers and on-line CV feedback, will help enhance your skills and give you that edge to get that new position. So that you:

will handle the interview with confidence
will be able to handle difficult questions
will present a positive image
Form of
teaching

Fee for each course
1 to 1
12,000 HUF
Reservations
Email, Letter and Report writing course

Our on-line email, letter and report writing course will develop your skills to ensure

you avoid common communication pitfalls
your messages have the greatest impact
your communications are clear and focused
Prices for companies will vary according to the number of students and the requested contact. For companies we can include an introduction training session followed by on-line follow up.

For individuals the course is produced as ten week course with focus on the needs of each individual student. For this the course the cost is just 25,000 HUF. If students need to miss few weeks this can be arranged with no loss of lessons.

Form of
teaching
Fee for each course
1 to 1
25,000 HUF
Reservations
-----------------------------------------------------------------------------------

Except for Team Building Courses, entry level is usually Intermediate English and above.

To know more simply send us an email or give us a call.

courses@littlebritainservices.com

Our telephone numbers are
Office +36 1 785 2416
Timothy Child +36 204 207 275 (English)
Zita Harsányi +36 205 400 636 (Hungarian)

Address: 1117 Budapest, Fehérvári út 74, III/10.